To reduce friction & deterioration through the achievement of advanced lubrication technology!!
PROTECT
Lower lubrication temperatures and extending equipment life.
MCS Distibution Established in 1991!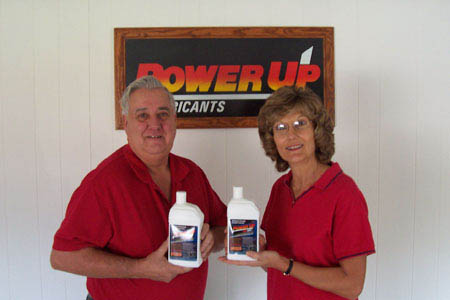 Bill & Ellie Mongin
Master Distributors  – Coleman, WI
How Does Power Up Work?
The Power Up advanced technology has an ability to reverse the wear molecule and create a negative ion. The negative ion then forms a marriage with the lubricant that its working with. Our technology can withstand 200,000 lbs of pressure to the wear surface, where grease and oil are used as lubricants. We treat the oil not the wear surface, other technology bonds to the wear surface, we do not.
We are proud to be serving and supplying the Food, Automotive, Manufacturing and Trucking industry with a critical lubrication technology since 1991.




Watch the Power of PowerUp Lubrication!
Coleman Parts LLC
Owners: Dick & Nancy Stank
Phone: (920) 897-4016
Double K Express LLC
Owner: Brent Gusick
Phone: (920) 897-5485
Gruber's Garage
Owner: Tod Gruber
Phone: (920) 897-2347
Become a Power Up Dealer!
To our Power Up customers, we offer a retail business with our products, the starting inventory is $ 223.00 for Wisconsin residents, for details call 920-897-3034 or e-mail our company: [email protected]  
We promise to answer your call or e-mail on the same day, whenever possible. William N. Mongin, Pres.