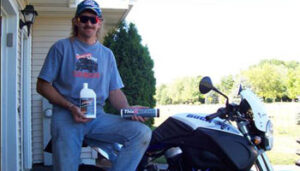 Mr Bill Mongin
Dear Bill, my story starts at Pulaski Wisconsin. Larry Smith owner of Pulaski Auto Parts had a 5 Ltr jug of PowerUp NNL690-G on his counter. On the bottle he had written that PowerUp will give fuel savings. I had looked at the jug several times and wondered if this was true. Well it took some time and one day I decided to test the product in my Harley Davidson Buell.
This is a sport bike and it has a warning light when you have .04 gallons of fuel ft. I installed the PowerUp NNL690-G in my engine and filled up my fuel tank. My Friend has the same bike and he filled up at the same time. We both traveled about 158 miles and my friend's warning light came on and my light did not. To my surprise, my light finally came on at 187 miles. I thought this was too good to be true and PowerUp could not make this big of a difference.
At this time I decided to remove the PowerUp from my bike and recheck. After removing the PowerUp from my bike the warning light came back on at 158 miles. I had lost all of the fuel savings I had gained. I made a decision to reinstall the PowerUp and do another test. After reinstalling the NNL690-G product the light came back on at 187 miles. This was exactly what I had gained before, an undisputable test. I have installed NNL690-G in the primary clutch unit, it runs smother and better than ever.
I made a decision to install PowerUp in my Mud Racing Truck, my 4WD ATV, my Lawn Mower and my Portable Electric Generator. After viewing your PowerUp demonstration I completely understand how unique this product is. Please feel free to use the pictures you have taken of me and my Harley on your web site. Thank you again for bring PowerUp to Pulaski.
Yours truly,
Rory Schubert
Sobieski, WI