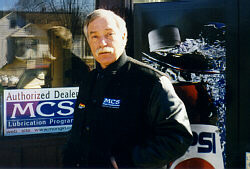 Marquardt Auto Sales was established in 1973 as a full automotive repair shop. I have seen numerous products in our industry come and go. Most of these products have not established a measurable level of results for our customers. At the time we first met we were reevaluating our additive lines and I asked to take a took at your products. After viewing your demonstration I felt we needed to give your products a full test.
My customers were driving their cars and pickups longer. This required additional protection for their engines and transmissions. I also had a few customers who were experiencing sticky lifters with measurable upper engine noise. In addition some of our clients were requiring additional oil between changes.
On 11/11/1998 I purchased a 5 Ltr. of NNL-69OG oil fortifier. It has been a little over 3 1/2 months. The results: most of the above problems that our customers were experiencing have disappeared.
We feel another benefit to our customers is the ability of this product to protect engine wear areas that see damage from coolant in oil which is common today because of gasket failures.
The results of our tests and use of your products have shown remarkable improvements in reducing and eliminating the problems that are friction related. I am very pleased with the results and my customers are happy to avoid unnecessary expensive repair work.
Bill, I would like to thank you for introducing the NNL69OG and all of the products of the M.C.S.Lubrication Program. I am looking forward to using your products and program for many years to come.
Sincerely Yours
Dick Marquardt
Owner, Marquardt Auto Service