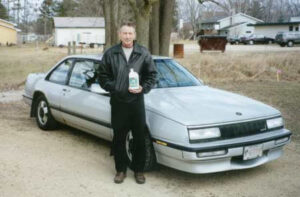 Jim Murray
Pardeeville WI 53532
RE: Power-Up (NNL-690G – Automotive oil additive)
As I explained to you on the phone – " It was after your demonstration in Princeton WI in 1992 that I started using Power-up in my 1987 Buick LaSabre T-Type. I am the only and the original owner of this car, which had 6 miles on it the first time I drove it. It is equipped with the GM 3800 engine (3.8 V-6).
Before Power-up::At the time I began using Power-up it had over 200,000 miles on it and I could tell that I had lost considerable engine power. At idle and in drive – I could remove my foot from the brake peddle and the car wouldn't move!
After Power-up::Within 4 months of using Power-up, and still to this day, I can feel a difference! NOW at idle and in drive – I can NO longer remove my foot from the brake peddle – (even on a slight up-grade) – the car will move forward!! The engine power is back; even my mechanic has commented on the amount of power!!
Oh – by the way:This is the original engine, has over 395,000 miles on it, has NEVER been overhaul or replaced – and runs like NEW !!
UPDATE: 09/20/2002 Hey Bill – can't believe it's been a year since I last contacted you, but thought it was time for an update! You may even want to update or include this new information in my previous testimonial.
"On Sept. 20th, 2002 my 1987 Buick LeSabre T-Type turned 400,000 miles on the original engine – it burns NO oil and still runs like new!! My mechanics at "Parks Automotive" in DeForest, WI even brag about it to other customers."
UPDATE: 01/18/2006 Thanks a ton. By the way – the "87-Buick T-Type" now has over 465,000 original & runs perfect. I gave it to a friend in Minnesota and she loves it. I bought a 2005 Chrysler Sebring with 26,000 miles on it and guess what I'm using in it – yep – Power-Up!! It has already increased the MPG and power. Here we go again!! :-)) Thanks again – Jim Murray
UPDATE: 08/16/2016 Latest letter from Jim Murray; Ok Bill…here's my latest;
"Aug. 16, 2016; 2005 Chrysler Sebring 4-Cyl, 2.4 Liter update. Last month my Sebring turned over 200,000 miles and runs excellent with the NNL690G Power-Up you recommended years ago. As in the 87 Buick; I not only add it to the engine oil, but I also add some to my automatic transmission and power steering fluid. Speaking of the power steering…I have to share this with you; about 6 months ago I noticed a steering noise and took it into my mechanics. They recommended a steering gear replacement and alignment with an estimated repair cost of $1,000.00. Instead; I just added an increased amount of NNL690G to the power steering fluid and within a month the noise was gone and it's been working perfectly ever since.
Then last week I found out that NNL690G is even compatible with R12 and R134A Freon. So by adding just a few drops in an A/C recharge hose my compressor will run smoother and cooler…amazing!!"
Jim Murray
ps: I also use it in my lawnmower, chainsaw and outboard motor…this stuff really is "magic juice".